Bonneville 2009 Update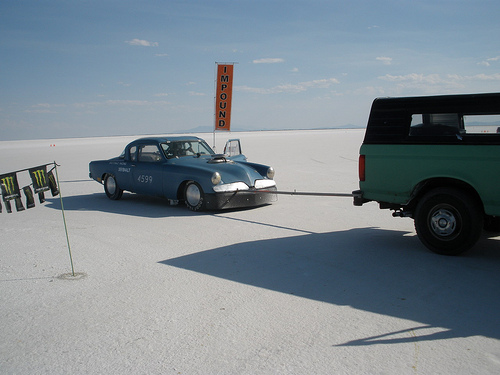 You NEVER get tired of seeing this!
Owner of two Bonneville National Records
XF/BFALT -- 114.149 MPH and XF/BGALT -- 115.841 MPH

In our last update we had the car running and we just needed to throw the rest of the bodywork on it and take it for a spin before loading in on the trailer. Of course it's never quite that easy. While Bob reinstalled the grills and bumper, CT welded some ports in the passenger side header to accept an A/F meter. The new radiator placement meant we had to do some quick work with the metal shears to get it all to fit. Roy stopped by to lend some moral support (and he was there helping me install the CB just a day earlier). Finally we were ready to go. Kind of. The clutch cable was causing some problems. The outer sheathing was collapsing under pressure. Shoe, CT, and Greg struggled with it for a while before Greg went on a mission. After hitting all the dealerships and junkyards within 10 miles we came to one conculsion: If we had another week we could probably get a custom one made but with no time left and us already being a day late we were going to have to be creative. (During all this we sat around in lawn chairs, looked at the car, and entertained people who happened by) We sheathed the outside of the cable with soft copper tubing, clamped the ends and it worked. Sort of. We needed to adjust it a little but at least we could shift gears. Hey, it only needs to work about 50 times, right?

It was now Thursday night. We loaded the car and went to bed.

Friday morning dawned and it was raining like all get out. We managed to get all our crap in the truck and get on the road by 10 or so. The going was slow. I think we were well into Iowa before we passed anyone -- this guy actually. He had a dog in his lap. I'm sure he wondered why we were taking HIS picture. The ride through the almost featureless prairie was mostly uneventful. When we got tired or dejected CT would get us all to sing a song to lift our spirits. We made it to the middle of Nebraska before calling it a night. CT was texting with the mysterious "Johnny" and reported he was a few hours ahead of us.

The next morning we hit the road. We passed Johnny as he was sleeping it off. Everything was fine and suddenly, from the side of the road, a flock of birds exploded into the truck! It was like the last thing you see before the RPG hits your Humvee. We got the best of the birds but they sure woke us up. View the carnage here and here.

We changed drivers and everything seemed as you might expect -- no power, and poor mileage when CT noticed the Check Engine light was on. We checked the gas caps and restarted the truck but it kept coming on. The manual was of little help. We found a Ford dealer in Cheyenne who found the problem in no time at all: A bad oxygen sensor. 4 hours later we were back on the road with more power and better mileage. A lot better mileage. We also had the headlight switch replaced. I still don't like how it works.

One thing about taking trips like this is that you're always in a hurry. You aren't sight-seeing and every minute spent not driving is a minute you aren't at Wendover. Still, it's nice to take a lunch break at somewhere interesting. Somewhere in Wyoming we encountered Super Tortas Mina. They know "How The Tacos Should Be" and if you haven't been there, brother you don't know how the tacos should be. This leg of the trip had some bea-u-tiful scenery but we were way behind. We rolled into Wendover at about 1AM -- 4 hours later than planned but early enough for C.T. to get his first glimpse of the nightly rat-rod extravaganza that has become part of speed week. He was hooked!

Sunday morning we hit the salt and found a pit area. We were quite close to the Acme Speed Shop boys from Richfield, Minnesota. We were near Jim Lange, too. We had a lot to do to get ready for tech and after setting up camp we had at it. Luckily the Acme guys wanted to help and we hooked up with Alan Songer, a Studebaker guy from California. He and his friends pitched in as well and really saved the day for us. The Acme Speed Shop guys were a ton of help too! I can tell you we wouldn't have gotten the car ready in time without all this help. We even saw some friends from Minnesota. Tom Jones showed up and also Keith Wynn and his Dad. Keith helped us out with a Tach and a Carb.

We had a very long list of things to do before tech:
•Kroil Lugnuts
•Water Leaks
•Fuel Leaks
•Install Tunnel
•Install Shift Boot
•Caulk Firewall, Tunnel, and Seams
•Install Headlight Covers
•Install Grill Covers
•Install Arm Restraints
•Mount Control Panel
•Install Tach
•Finalize Starting Procedure
•Finalize Shutdown Procedure
•Hook up Fire Bottle
•Put on the Race Wheels
•Paint on Numbers and Class
•Back Deck
•Find Some Dzus Fasteners
•Test With Driver in Suit
•Remove Safety Screw from Fire Bottle
•Install Hood
•Install Net
•Install Air Dam
•Install Moon Disks
And that doesn't even start covering the whole "get it to run good" thing. Believe me, this isn't the kind of list you want to show up at Bonneville with.

One of the Acme lads paints signs for a living. While Alan's friend lettered the car with some stick on letters we had from 2006, this other guy (someone know his name?) painted our numbers on the car with poster paint we found at the supermarket. He was pretty good and when you look at the side of the Acme Speed Shop bus you can recognize his style in the Impala treatment he gave it.

We got to meet up with some old friends from the salt. Dave and Rosa Maria Livesy showed up with their Avanti for David Jr. and pitted near us. Vaden, who crews for Jim Lange and Dave Bloomberg was there. We finally met CT's friend Johnny Johnsen, too. Johnny really ended up being the fourth member of the team. Again, we can't thank him, or any of the others enough. There's no way we could have gotten it all together without them.

At the end of a long day, (full of this kind of stuff which, trust me, exhausts you) we were only half done, but we were ready for a little party at the bend in the road. We all had some burgers and beer, gawked at At last we got a look at Johnny's car, and watched some f i r e w o r k s .

The next day had us back on the salt wrenching like maniacs. And tuning. Like maniacs. Maniacs with an A/F meter, a lot of gas, and plenty of neighbors to annoy. Yeah, and maniacs aren't very good tuners. It takes a long time. Oh, and we had neither a timing light, nor a plug gapper. We had a lot of problems getting the jetting just right. The rear cylinders were running alittle lean. We ran the car in the pits enough that I think our neighbors hated us. How much is alot? Dude, we were getting only 2 miles to the gallon. On $10/gallon 110 octane fuel.

We ended Monday on a high note. We were almost ready for tech. We even got the air dam on using Dzus fasteners that weren't quite long enough. The Mooneyes booth kindly gave them to CT and Johnny for free! We're going to have to fix that for next year.

Tuesday morning we finished it up and rolled over to tech. The checked us over like they were buying a horse from a guy who looked like he was in a hurry. We did OK. They wanted us to reposition the harness mount and add a clevis pin to the net mount (and change that to a seatbelt mount for next year). We were restricted to under 175 miles per hour until those changes are made. Not much chance of that being a problem!

We finally towed to the line for Greg to make our first pass. The line wasn't bad. Hayseed Dave found us so we chatted with him but things started moving and we actually got up there so fast we almost weren't ready!!! Greg got away cleanly and managed 107 MPH. Not bad considering it was the first time the car had been out of second gear. Hayseed Dave and crew met us out on the return road after the run! We went straight to impound where the majority of work centered around rejetting the carb.

We spent the rest of the day visiting the Livesey's as they worked to get their Avanti ready for tech. There were a lot of people helping them out (or at least standing around). This is a beautiful car but a lot of work was left to do. Greg helped out Rosa Maria as she filled out the entry form.

Wednesday morning we got up early and got in line for the salt before dawn. We futzed with the car for a bit and got it in the caravan to the starting line. This time I managed some pictures and a video. We were right up front and the rejetting helped out -- Greg went 122 setting a record in XF/BFALT of 114.149. A quick trip to Tech to seal the engine and we were back at it.

Some more seat-of-the pants tuning and a class change later and we were running in XF/BGALT. This mainly consisted of a new number (4599) and a couple of sticky letters. Sadly, the Acme guy who did our original lettering was gone so Bob and CT did their best. I think CT may have a new career.

Bob's first pass was a measly 98mph. Disappointing. We COULD go to impound. But deep inside us a tiny glimmer of pride rose to the surface. We rejetted and ran again. All that warming up before we rolled to the line made it hard to restart. We had to push back and let the car cool for a minute. Soon we ran again but the car got hot and Bob had to shut it off part way through the third mile at 126 and accelerating because the temp spiked to 150. The run ended up being about 113 average.

When we got to Impound were able to park next to Jim Lange!!!

Back in impound we decided to leave everything alone -- just making sure we had enough water in the radiator. We'd run again, but not warm up too much. The next morning it was pretty dark in Impound. We didn't have much to do (just charging the batteries) so we watched Jim, Barlow and crew get the Avanti ready. That Avanti has been around! We needed fuel so we rolled over to the ERC station and filled up then watched the sun rise over the salt before joining the caravan to the starting line. The beauty of this place has to be seen to believed. The pictures do not do it justice. As we pushed to the line we got the car running and waited for the signal to start. Instead of the sign to go, Bill Taylor made the "Shut It Down" sign -- the car before us spun. When we finally ran, we managed 116 which set the XF/BGALT record at 115.841.

After going through tech to show the engine was still sealed we pulled off the grill covers to get some more air flowing to the radiator and gave CT a ride. This required lowering the head restraint and put him in the car. He ran about 117 -- similar to Bob's run earlier in the day. In both this run and Bob's last run we didn't warm up the engine much. In retrospect, we probably would have benefited from getting the temp up a little more. Afterwards we pushed off into the salt with Johnny's car and took some pictures with the mountains as a backdrop. 1 , 2 , 3 , 4 , 5 , 6 , 7 , 8 , 9 , 10 , 11 , 12

Now it was time to think about heading home. We pulled the head on one side (leaving a puddle of rusty water), went to tech, and had them measure the motor to make sure we were within 320ci for the class. They mic-ed it out at 284ci. After towing the racer back to the pits and beginning to break camp, we pushed the car out and got our neighbors to put their car next to it. They run a Comp Coupe and it was really interesting to see our relatively stock body and suspension next to theirs. 1 , 2 , 3 , 4 , 5 , 6 , 7 , 8

Things weren't going as well for the Livesey's. They managed to get to tech but had a long enough list of "repairs" that they wouldn't be able to make a run this time. I can't tell you how disappointed we all were. We REALLY want to see that car run. We said some goodbyes with the promise that we would meet them here next year.

We loaded the car Thursday evening and rolled off the salt taking the obligatory picture next to that most famous sign. We had a final meal at our new favorite place to eat in Wendover, went to bed, and left Friday morning - early. During the trip back we spent a lot of time making plans for next year. On Friday

During the trip back we spent a lot of time making plans for next year. On Friday, as we ran through Nebraska, we wanted to listen to Radio Rumpus Room on KFAI 90.3 FM in Minneapolis. And we did. CT had a MacBook and a Sprint card. He surfed out to www.kfai.org and streamed the station in RealAudio. But the speakers were too weenie! Greg got out his MP3 gizmo which has a 1/4 inch stereo jack on one side and an FM broadcaster on the other. The jack went into the headphone output of the MacBook and we dialed in an unused FM station on the other end and Voila! We were listening to Minneapolis Community Radio while driving across Nebraska on I-80! Here's a picture of the rig here. Rain loosened some salt and faded our numbers but in no way dampened our enthusiam to get back out there and run faster.

We got home Saturday night and, when dropping CT off, found we had another convert to the cause -- CT's nephew!