Spring 2006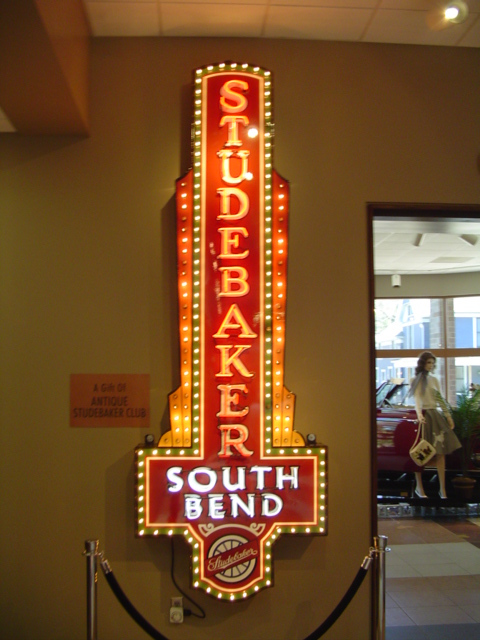 Engine Woes, Rust, and a trip to The Holy Land.
Nothing beats a road trip to South Bend for the big swap meet in May. The new museum is not to be missed.

But it all started a few months ago when we received some engine blocks: 1, 2, 3, 4, 5. Yes, that's snow on them. All 185s, they came up from the Kansas City area. We took them over to Tom Porter (who is pretty agile, I want to tell you). He looked them over and declared them a mite on the fragile side for record attempts; they had some cracks in the cylinders that could be sleeved for street use but would make them unreliable under racing conditions. This left us in a bit of a fix.

Fast forward to late April. We started working on the car and a big problem is getting the rust under control. That salt gets EVERYWHERE. Just look at what's going on under the dashboard. We started taking things apart and found stuff that looked like this, and this. That will require some wire brush work and some rust killing paint. Every year.

We also spent a lot of time looking at the flywheel issue. We really don't want another clutch/flywheel explosion but it's actually kind of hard to find the proper combination of flywheel and ring gear. We looked at a lot of parts we had laying around but didn't really see exactly what we wanted. On the plus side, the transmission is back together and the bellhousing is ready. We also took a long look at the intake/exhaust setup. Mark and Greg had long discussions on what changes would be required to make the engine more reliable without making things too new.

On May 4th, Greg, Ed, and Bob took a road trip to South Bend, Indiana. South Bend is the town where Studebaker was founded. This is a yearly pilgrimage to the finest Studebaker swap meet ever held. If you need it, you can get it there. And I want to tell you, we needed it. We needed an engine block. We needed an intake plenum. We needed to see our heroes -- guys like Ted Harbit (and his wife, Mary) and Dale McPhearson. We needed to see the guys like Thibault, and Turner, Ordas, and Fennessey -- guys that have gone out of their way to manufacture the stuff that you need to restore a Studebaker and turn it into a high-performance hot rod. We did see them -- and a whole lot more.

The absolute first thing we did was buy a bunch of raffle tickets for this beautiful Lark VI. It's being auctioned off by the Michiana chapter. The drawing is next May. The details are here. Oh, and buy all the tickets you want, it really helps the chapter out, but do so knowing that I already bought the winner. Sucker. There's really only two things you can do with a car like this. The first is to drive it until the 6 wears out and put in an R2 or R4 with super-quiet mufflers and leave all the VI badges on it, or turbo-charge the 6. Guess which we would do? Maybe you won't have to guess. I am holding the winning ticket, after all.

Not two minutes later we ran into Digger Dave. Digger fabricated our intake plenum and joins us each year in Bonneville. He showed us how he was going to enlarge the volume and smooth the flow with some improved venturis. We also took a close look at the intake/exhaust setup he had on his truck. All hand made, the welds are a thing of beauty. You don't know whether to put them on your engine or hang them on the wall. The new design will also incorporate a blow-off valve in case a backfire ignites the fuel/air mixture in the plenum.

We touched base with Ted Harbit, Dale McPhearson, and Phil Harris (center). Phil took over Ted's parts business and has been a big supporter of our effort. After buying a bunch of stuff and spending a few hours talking and looking at cool cars 1, 2, 3, 4, 5, 6, 7, 8, 9, 10, 11. , we decided to head over to SASCO, see what was going on there, and pick up our new block. It was a great idea except Bob's 2005 F-150 started running like crap. We made it to SASCO, ran into Bob Reining, and while Ed and Greg started looking around, Bob went to the nearest Ford dealership for a little warrenty work. While everyone else Studebakered it up at Sasco, Bob sat in the waiting room watching The Sand Pebbles with Steve McQueen while they changed out a faulty injector, replaced all the spark plugs, and did an oil change. Four-and-a-half hours later, Bob got back over to SASCO to see the new block. New. Never used. Sitting in South Bend for 40 years waiting for us to come pick it up. Coated with Cosmolene. After reflecting on this for a moment, we strapped it in the back of the pickup. SASCO gave us a GREAT deal on this block and we really appreciate their support for our racing effort. Where else can you find so much cool stuff in one place? Since everything had closed for the day and we were hungrier than tired, we went to dinner at Smokey Bones with Bob Reining who deemed the place so good he ate there two nights in a row. He wasn't kidding. We had a great meal then went to our hotel and slept for 12 hours!

The next morning we were up and off to SASCO again. We learned some interesting stuff from Jim Turner and Dave Thibeault. Jim is considering buying equipment that will allow him to manufacture braided steel brake lines in stock sizes for Studebakers. This is Monster! I've heard many stories about how poorly some of the items made up by the non-Stude crowd fit. If Jim is known for one thing, he's known for producing products that bolt right in without a bunch of screwing around. The device will be a major investment for him so he's trying to gauge interest in it before getting it. Everyone I talked to would be ready to relpace their lines straight away if they could get right fitting braided stainless. So call Jim up and convince him we'll support him!

Dave Thibeault had another bombshell to drop on us. As you may know he's been selling a electronic Chrysler distributor modified to work in a Studebaker. He went to Mallory to have them make some more parts and they suggested manufacturing the whole unit! He will shortly take delivery of these and they are beautiful. An entirely new electronic ignition distributor for Studebaker V8's that accepts Mallory caps -- all kinds of Mallory caps so you can run whatever size wire or end you want! This is a must-have for anyone who wants to go electronic!

We also spent some time chatting with Fennessey from Tennessee and of course his wife and daughter. He was telling me about how he's been moving around the source of his manufacturing to insure that we'll all have access to high quality rubber for Studes for a long time to come, no matter what. You gotta love that.

We dashed back to the Fairgrounds where I finally ran into Brian Larson, on of the lads from Minnesota. We planned to get together earlier but our car woes prevented that. He's helping someone look for a classic pickup so if you know anyone who has anything good, let us know. We saw These three and darned if I haven't lost my notes with their names. Can someone help me out here? We hooked up again with Dale Long, who has been a great sounding board for our sometimes crazy ideas to get more power out of that six. We all wish he lived a little closer to us. Greg spent a lot of time with Phil talking about flywheels and ring gears and with Ben about heads. Those two have been a lot of help.

As usual there were a lot of great vehicles to see - some at SASCO, some at the fairgrounds.
A Speedster Studellac: 1, 2, 3, 4, 5, 6.
A nice bullet-nose custom, an Avanti from Bonneville, and a Coupe Express caught our eyes. Here are some other cool cars we saw: A, B, C, D, E, F, G, H, I, J, K, L, M, N. Ed thought long and hard about buying that 25!

Then it was off to the museum! On the way we stopped at the old location. You can still see where the letters were on the wall... Greg was interested in the suspension revealed here for a project he is thinking about. Ed wanted a close-up of where he signed his name on Ron Hall's car. We checked out the car from the Muppet movie and you can see where the driver was stashed in the trunk. A cool mosaic table, an amusing ad, and the mighty R4 completed the tour. Having done everything we could think of in South Bend, we headed for home (without incindent, thank God!). We're already planning to come back next year. Twice.

Well, there was one incident. At a gas stop on I-80 we ran into Iron Butt veteran Norman Babcock and his son who were running the One Lap Of America event -- a descendant of the famed Cannonball Run, now in a sort of pro-rally format like La Carrera. They were in an Audi Quattro and it was only day 1 or 2 of the event. You can find all about this cool event and see how they did on www.onelapofamerica.com . Look for car number 11!