July 20, 2005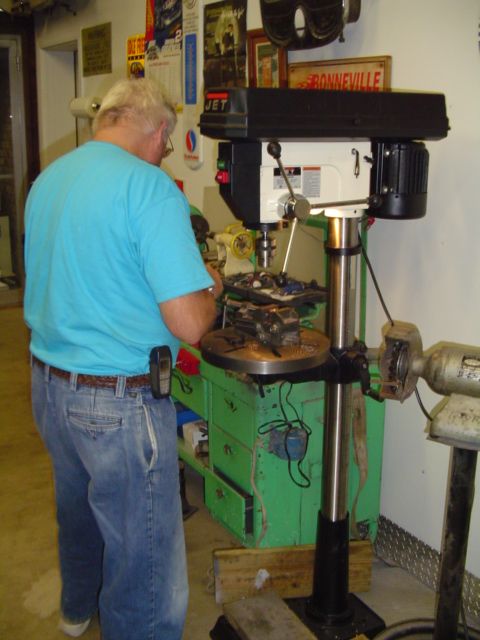 Ed got a new drill press!

With the motor back in the car the process of hooking it all back up continues. Here, Mike Speidel does a little work on a new fitting for the reverse flow cooling system to plumb in a water temp sender.

Ed spent the evening snipping and beating galvanized steel panels to cover holes in the inner fender. In the rush to get ready last year, we made these holes to accomdate the wastegate and exhaust much larger than they needed to be. This will keep some (but not all!) chunks of salt out of the engine compartment. You can see the bright section of copper at the back of the cooling log that will get the temp sender. As you can see, just about everything but the radiator is in place. Here's a front view of the setup.

We've put a new transmission in it for this year courtesy of Daryl. Well... new to us anyway. It's a Chevy 4-speed with a reverse that whines. Since you never use reverse out there, it won't bother us. It's the same physical dimensions as the 3-speed we used last year but the linkage is different which will require Joe to make some modifications to the hole in the hump. Since we're going with a 2.75 rear end (last year we had a 3.00) we think the 4-speed will help us out. You can really see the inexorable action of the salt on the floor pan. Here's another shot of what the salt does to your car.

Greg is draining the oil from the engine. This is the oil used during the dyno run. We examined it for crud and such. There was some metal on the magnetic drain plug but nothing disturbing. Finally, Greg, who was experiencing back problems, scampered up on the lift to pour in some new oil. That's Mark, Ed, and Joe in the foreground.

John Seppanen was in town and joined us for the evening. He worked on some Studebaker hubcaps we picked up in South Bend and turned them into headlight covers which we'll need if we want to run in the Altered class. XO/Blown Fuel Altered Coupe has an open record. Shh... don't tell ANYONE! Here's Greg nibbling out some backing plates for the headlight covers. John ground off the sharp bits, and they fitted perfectly.

Mark braised up the grill surrounds. We could have used some nice ones but we've made an effort not to waste cosmetically good parts on this project.